On a map, are the lines that run parallel to the equator called:

a. lines of longitude?

b. lines of latitude?

BYB pictures from years gone by:

2015-16 Trivia questions:

BYB WEATHER HOT LINE   781-340-4569

If you send me BYB pictures I will try my best to post them on the website.

Please email pictures to bob.omalley@gmail.com.

Congratulations to the

2014 Ryan Hoop Shoot winners

2015 Ryan

Hoop Shoot winners

Hot Market Design in Braintree has launched an online store for Braintree Youth Basketball.

You will be able to purchase some great apparel and a portion of the proceeds supports BYB

If you have any questions please contact Jack More  from Hot Market Design  at 781-848-7700.



General Information:

All BYB games are on Saturdays, except for the oldest Boys and Girls divisions.

There is a 1 hour practice during the week.

Practices start in November, games start in December and run until the end of February.

2016 Dave Ryan

Hoop Shoot winners

We would like to thank all the BYB players, coaches and

fans for an other successful season.



Registration will be in September for the 2016-2017 season.
Enjoy the summer.

Baseline to Baseline, Inc.

INSTRUCTIONAL BASKETBALL CAMP

at BRAINTREE HIGH SCHOOL

July 25 - July 29, 2016

Boys & Girls – Grades 5 - 10

Future Stars Basketball Camp

Boys & Girls Entering Grades K - 4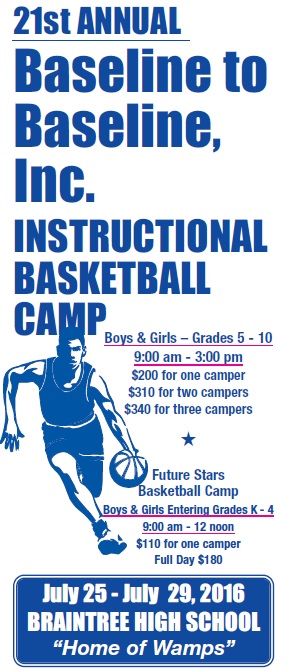 Please contact Coach Crook for further information: rcrook@braintreema.gov